OFFICE CLOSING: WEATHER UPDATE: The office will be closed Tuesday January 27, 2015 due to the weather. If you have an emergency with your pet please call the 24 hour emergency service NorthStar Vets in Robbinsville, NJ at 609-259-8300 or VSEC in Levittown, PA at 215-750-7884. Please be safe if you have to be out in this storm.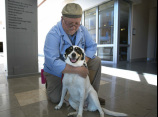 Unconditional Love -
Hospital officials say therapy dogs are a great way to reduce stress, boost morale and bring cheer to patients. Pictured to the left is our patient, Bailey, with her owner making one of her frequent visits to bring some cheer to those who need it most.
---
ADOPT A PET
VCC recommends adopting a pet. We work with 2 organizations/rescues that we highly recommend:
Burlington County Animal Alliance
and
AFEW - Animal Friends for Education and Welfare
. If you adopt a pet from one of these shelters (or any shelter), we say "thank you" by offering a discounted first exam and a free first fecal test (total value of over $50) for your new adoptive pet! We also can recommend a dog trainer that gives free consultations if you adopted your pet from a shelter. For more information, visit their website:
Ain't Misbehaving' Dog Training.
VCC Goes Green
Reptiles aren't the only thing going green at the Veterinary Care Center.
Dr. Horn recently invested in solar panels to supplement the energy usage at his veterinary practice. Buildings such as the Veterinary Care Center, account for 68% of the electricity consumption and 38% of the carbon dioxide emissions, according to the
United States Environmental Protection Agency.
Electricity's negative impact on the environment stems from the need to burn coal during its creation. The process of burning, harvesting and transporting
coal
causes air and water pollution, and land and water resource consumption.
The EPA calls solar energy "environmentally friendly" because its production does not require the burning of fossil fuels. And, unlike non-renewable energy sources such as oil, coal and natural gas, the sun will never run out.
According to the
U.S. Department of Energy
, "More energy from the sun falls on the earth in one hour than is used by everyone in the world in one year."
Solar panels contain cells, called photovoltaic cells, which convert sunlight directly into electricity. PV technology uses the electrical properties of materials known as semiconductors. These materials, when exposed to sunlight, produce electricity which can then be transferred through a circuit to anything that uses electricity.
This summer, Dr. Horn looks forward to leaving his footprints on the sand instead of on the planet.