ADOPT A PET
VCC recommends adopting a pet. We work with 2 organizations/rescues that we highly recommend:
Burlington County Animal Alliance
and
AFEW - Animal Friends for Education and Welfare
. If you adopt a pet from one of these shelters (or any shelter), we say "thank you" by offering a discounted first exam and a free first fecal test (total value of over $50) for your new adopted pet! We also can recommend a dog trainer that gives free consultations if you adopted your pet from a shelter. For more information, visit their website:
Ain't Misbehaving' Dog Training.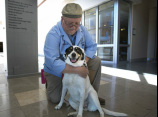 Unconditional Love -
Hospital officials say therapy dogs are a great way to reduce stress, boost morale and bring cheer to patients. Pictured to the left is our patient, Bailey, with her owner making one of her frequent visits to bring some cheer to those who need it most.
---